Bossa Nova
by JazzMaverick (Dec 07, 2008)
This is a pretty awesome style in my opinion and I've really enjoyed playing it. I think it's important that you understand a little history of the genre; it's a fusion of jazz elements with various rhythms, particularly the samba. It was greatly inspired by cool Jazz, but the music derives from samba although it's more complex harmonically and less percussive.
This will be the beginning to Bossa Nova, and I'll introduce you to some awesome chords and some of my favourites.
But first...
How to play Bossa Nova;
It needs no pick, this implies using all of your fingers and your thumb. To those who aren't used to doing this, this will help you to alternate between the thumb and the rest of your fingers.
You should first learn to be comfortable with this rhythm, so practice this pattern until you can play any chord pattern with it. You can use any voicing you want; the important thing is to keep a rhythm feel.
The thumb plays the bass notes on 1 and 3, while the fingers pluck the chords in unison on 1 and 2, delayed on 3. Overall, the rhythm has a swaying rather than swinging (as in jazz) feel. As bossa nova composer Carlos Lyra describes it in his song; "Influência do Jazz", the samba rhythm moves "side to side" while jazz moves "front to back".
In terms of lyrical themes and length of songs (typically two to four minutes), bossa nova is very much a "popular music" style. However, the typical structure differs slightly from European and North American rock and pop based music's standard format of two verses followed by a bridge, and a closing verse; bossa nova songs usually have no more than two lyrical verses, and almost never a bridge.
Anyway, let's start.
The chords I'll be using are:
Ami7, E7#9, C6(over)9, F/G, D9, Emi7, B+7, Dmi9, G13, DMaj9, GMaj7
This first image is basically to introduce you to chords, and starting off by playing one chords for two bars to get you comfortable with the positions and rhythm.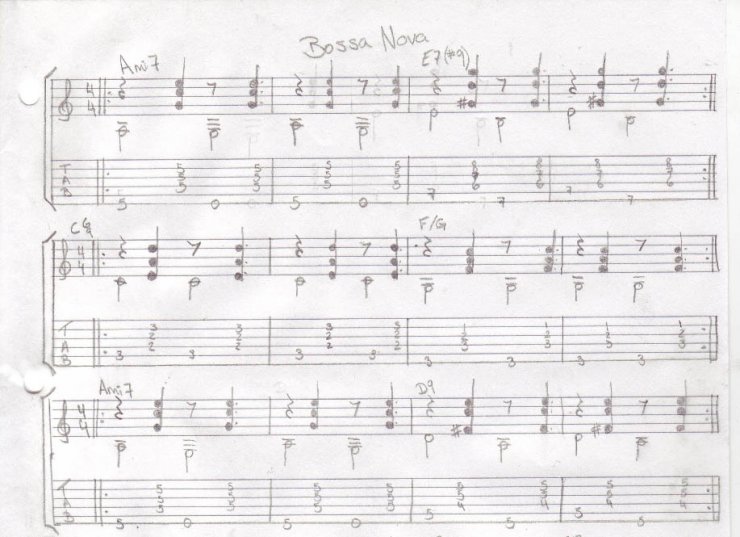 So keep working on that for a while until you've got the rhythm down and increase the speed so you're comfortable moving from chord to chord.
Once you feel like you're at a good stage with that, move on to this one where you chage the chord every bar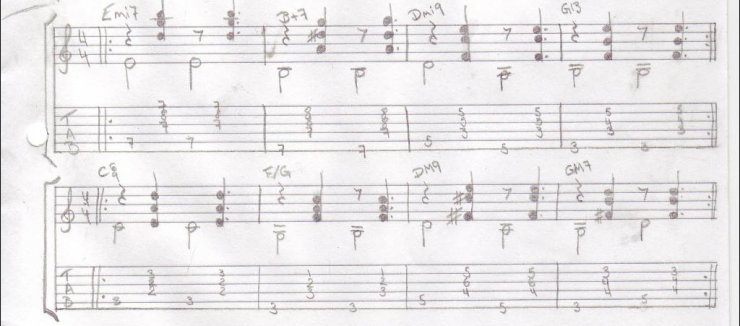 Again, increase the tempo once you've got it down pat.
NOTE!
Just incase you're not sure of they rhythm, I've recorded myself playing this so you understand how it should be played. Once you're ready why don't you try and improvise over these chords? Remember: compliment the chords! Make sure you're not just messing around! :D
The song is here:
Mp3 Title
Feel free to ask any questions.
__________________________________________________________________________________________
Also, check out my music listed on Sound Cloud (link below) if you like it follow me on facebook! :)
JazzMaverick on Sound Cloud
JazzMaverick Music
__________________________________________________________________________________________